The Park Foundation buys whatever influence it needs and it's none too subtle about it, a good illustration being provided by some recent events in the Town of Lansing, New York.
There was an appalling story in the Lansing Star this past Friday that doesn't mention the Park Foundation by name but, nonetheless, serves to demonstrate the perverse influence it has over public policy, especially in Planet Ithaca environs. The story had to do with a letter issued by Tompkins County Planning Commissioner Ed Marx to the town discouraging natural gas use and the not so pleased reaction of Town officials. Some county planning agencies in New York have grand illusions as to their responsibilities, but Marx has taken it to a new plane with his pompous lecture in writing to the town. What isn't disclosed is the close relationship between Marx and the fractivist Park Foundation.
The Park Foundation has long tentacles into Tompkins County, where it is located. It funds college programs, social initiatives, Tony Ingraffea's junk science outfit, regional planning projects, Cornell Cooperative Extension of Tompkins County, all sorts of fractivist groups and, as it turns out, the Tompkins County Planning Department that Ed Marx runs. The Park Foundation gave it $50,000 in 2010 to deal with gas drilling issues, according to these excerpts from that story:
At the meeting of the Tompkins County legislature on Tuesday, June 13 the body voted unanimously to accept $50,000 from the Park Foundation to fund a planner who will focus exclusively on natural gas drilling issues for the next year.

"This person will work with the TCCOG [Tompkins County Council of Governments] committee on gas drilling and with the municipalities," said county planning commissioner Ed Marx. "They will identify and implement changes to the local laws to protect the environment.
We know exactly what sort of measures came out of that effort, of course – bans on natural gas development in communities where it has existed for decades. It was never about dealing with issues or regulating – it was, rather, all about stopping it, which is the policy of the Park Foundation. The Park Foundation has also funded Sustainable Tompkins which has the same mission and lists the Planning Department as a partner, along with several other activities such as Solarize Tompkins that are linked to his department.
Obviously, Tompkins County can take grant money from whomever it wishes and adopt whatever energy policies it desires. Notwithstanding this, by taking money from the adamantly anti-gas Park Foundation and using it to fund a planning department which then goes on to try to bully towns into forsaking economic development for the sake of the foundation's agenda raises questions regarding who Ed Marx is really representing. Is it the public interest of the Town of Lansing or that of the Park Foundation and its ideology?
The project was described in an earlier Lansing Star article as follows:
Lansing and Dryden residents came to the Freeville Fire Station Tuesday to learn about a proposed gas pipeline that would bring natural gas to customers from Freeville, along West Dryden and Farrell Roads to the Warren Road area of Lansing.  The pipe would span seven miles, mostly in Dryden, to enhance the gas delivery system that is near capacity for the Ithaca area.  New York State Electric & Gas (NYSEG) Public Affairs Manager Clayton Ellis says that the pipe will connect specific customers and enhance an existing system.

"It's to serve customers along the route where the new pipeline will be," he says.  "It's to serve some of the proposed development, and some of the development is already happening in Lansing.  It will also help reinforce our entire Ithaca area gas system." 

NYSEG is proposing about seven miles of a mid-pressure distribution pipeline, planned mainly for the south side of West Dryden Road, on the street side of the ditch.  Ellis says that the project could be completed quickly before the end of 2015.  NYSEG's schedule calls for the company to obtain easements from property owners starting in September and finishing next April.  That would be followed by procuring materials and finalizing engineering plans by May with construction taking place from May through October.  The pipeline would be commissioned by November.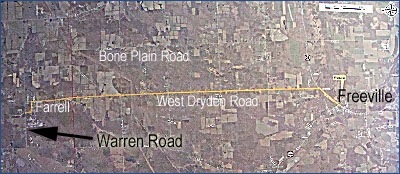 Here's a bit more from the article on the benefits of the project (emphasis added):
Ellis says the pipe will be beneficial to homeowners along the route because it will enable them to hook up, which is free for homes that are within 100 feet of the pipe.  A NYSEG handout shows that at current prices annual estimated residential energy costs are $1,061 for natural gas users compared to between  $2,725 and $2,897 for fuel oil, electricity and propane users…

Town and County officials also attended the meeting.  Lansing Town Supervisor Kathy Miller  and Dryden Town Supervisor Mary Ann Sumner came to learn specifics of the project, and Tompkins County Area Development (TCAD) Vice President & Director of Economic Development Services Heather Filiberto and Lansing's representative to the Tompkins County Legislaturer Mike Sigler were also on hand.  Sigler says he wishes the pipe were planned for his own neighborhood because he would love to switch to natural gas.

"I'm thinking about installing solar panels," he says.  "It would cost $3,700 for an array to serve my electric needs.  But that won't serve my heating needs.  For that I need to deal with oil.  That's how it's going to be for the next 20 or 30 years, so if we don't switch to natural gas I don't know what the answer will be.  I would like to see more natural gas come to the area"…

"That area needs natural gas," Sigler adds.  "We have businesses coming in there.  That's one of the areas we've determined we want to see development in.  We're at capacity, so to get any more kind of development out there, that's where it needs to go.  If we are serious about creating jobs, and frankly if we're serious about things like global warming, natural gas right now is the way to go."
None of this apparently means much to the Tompkins County Planning Department, which had this to say in and about its recent letter:
"From what I understand the supply constraint is currently local in nature but the proposed pipeline would provide capacity to allow expansion of natural gas use throughout the urbanized area of the County and beyond well into the future," Marx wrote. "As we work to achieve the County's stated goal of an 80% reduction in greenhouse gas (GHG) emissions by 2050 and a 20% reduction from 2008 levels by 2020 it is becoming increasingly clear that we cannot achieve that goal if we continue to increase fossil fuel use in the County, including use of natural gas"…

Marx wrote that solar, wind, biomass and hydro generation installations in Tompkins County are scalable to the point where widespread adoption will make a significant energy impact.  He urged the committee to "precisely define the area where the gas deficiency exists, identify actions that could reduce demand from current users through efficiency improvements, and evaluate the feasibility of switching to renewable sources for some energy needs currently supplied by natural gas."

"A lot of what we do as planners is weigh the short term benefits versis the long term costs of things," says Deputy Commissioner of Planning Joan Jurkowich.  "We try to establish a balance.  It reflects some of the work we've done over the last several years.  Not just on the comprehensive plan, but the work we've been doing over the last eight years to try to reduce our dependence on fossil fuels, lower our greenhouse emissions, move to renewables."
The arrogant lecturing tone of the Planning Department remarks leaves little to the imagination as to their perspective on their superiority. They might as well have said "we know what's best for you and you damned well better like it." They have been totally co-opted by the Park Foundation and have adopted the condescending language of its patron snob, Adelaide Park Gomer, in telling Lansing it doesn't need economic development as much as it needs climate change action modeled on the disastrous European strategy supported by the Park Foundation and its allies, which has ultimately led to Germany building more coal plants. No, an economic growth rate only 3% of Williamsport's is just fine when you already operate from a natural gas heated palace of your own.
Needless to say, Lansing folks aren't too happy being chided by the likes of Marx and crew. Here's some of what they had to say:
On October 15th County Legislator Mike Sigler, representing Lansing on the Legislature, alerted the Lansing Town Board to a letter by County Planning Commissioner Ed Marx that could negatively impact development on and around Warren Road.  Marx wrote a strongly worded letter urging that current natural gas users reduce their use and that the Energy Committee evaluate the feasibility if switching from natural gas to renewable energy sources.

"I believe this memorandum coming out of the Planning Department will be very detrimental to the Town of Lansing," Sigler said.  "I opposed this at the Planning Committee meeting and will continue to do so"…

Shortly after the memo was presented to the Energy Committee Sigler appeared on WHCU radio.

"Here's an area of the county, up by the airport that people have put a lot of money to develop," Sigler told interviewer Lee Rayburn.  "We have Borg Warner and the jail is there.  We've put a lot of money into the roadway and the sewer system.  That area is ready for development and we're ready to have nodal development there.  If we wanted any new development in that area, and there are already projects on the books, we would need more capacity in that area"…

But Lansing's new Planning Consultant Michael Long [says] that when energy is needed it is not uncommon for NYSEG to provide it.  He says that gas is a good, economical alternative to oil, making it desirable to add capacity to development areas.

"I suspect that any time there is development within a community NYSEG will come in and put in additional gas lines," Long says.  "In a rural county area where you have a lot of propane, it seems that natural gas is much safer and much cheaper.  Once it's installed it seems to be a much better solution.  I suspect that any community that can grow its natural gas will be in a much better position."
Sigler and Long, of course, operate in the real world, contrary to the planners shaping the Park Foundation dream from their county office perch. The whole episode is another demonstration of the undue influence of the Park Foundation and its elitist fractivist funding allies over public policy. They're buying policy and sometime soon their other payee, Common Cause, will be out with another report covering their tracks and pretending the gas industry has the upper hand while giving no attention whatsoever to this sort of influence buying. That's why we're covering it here, because it won't be mentioned elsewhere, but it's the reality in Planet Ithaca.
Check out what else is new at NaturalGasNow today!
While you're at it, follow us on Facebook, Twitter and Linked-In!