Tom Shepstone
Shepstone Management Company, Inc.
…
…
The German renewables diversion has captured the imagination of many politically correct fractivists but, when you look close, there isn't much to it. 
It happens regularly. I am confronted in a debate somewhere over natural gas by someone saying "but Germany is getting half their energy from solar, so why can't we do it here?" as if that should end all arguments. They are, invariably, regurgitating some line they think they remember from some fractivist presentation they attended or some blog dedicated to anti-fossil fuels agitprop. When I tell them it isn't true and Germany is building coal plants at a breakneck pace, they react with skepticism and try to change the subject by resorting to every NIMBY's firewall line of "but, what about…"
Fortunately, others are now taking notice; Germany's renewables program isn't delivering, isn't affordable and isn't anything close to what's been touted by our fractivist friends. They've fallen for the German renewables diversion.
The Facts About German Renewables
A recent article by Robert Wilson at the Energy Collective reveals the hard facts about the German renewables program, which is a diversion from what the country is really doing – building more coal plants. We've talked about the Energiewende here before, noting this:
The US has kept its industrial electricity prices in line with shale gas powered power plants. China has done so with coal, with great consequences to human health from the increase in PM 2.5 pollution. France and Germany have followed the dream, latching onto the politically correct energiewende as policy. What it's got them is a 50% increase in electricity prices that has destroyed their economic competitiveness and sucked wealth out of the German economy.
Wilson digs into the telling details. Here are the basics:
The more common version of the myth is debunked with simple reference to Germany's official statisticsfor electricity generation. And what they tell us is quite simple. Germany does not get half of its electricity from solar panels, instead the figure is around ten times lower. Last year only 4.5% of Germany's gross electricity generation came from solar panels, far short of 50%.

And if you want to think that half of Germany's electricity comes from something green you will be disappointed. 46% of generation comes from coal. And just over half of coal powered electricity in Germany comes from burning lignite, perhaps the most polluting way to generate electricity on the planet.
He then goes on to explain the flip side of the equation:
An even more sobering comparison, given Germany's much trumped green credentials, is with the growth of coal power plants this decade. At the end of last year Germany had a total of 36 gigawatts of installed solar capacity, and this produced 28.3 terawatt hours of electricity. However, between 2011 and 2015 Germany is opening 10.7 gigawatts of new coal power plant capacity. The consulting company Poyry projects that these new coal power plants will have average capacity factors of 80%. If so, they will have a combined average annual output of 75 terawatt hours. In other words, in five years Germany is opening coal capacity which will have an annual output of more than double that from all of its solar panels. However, this comparison is perhaps too generous. Solar panels typically last twenty to twenty five years, but coal power plants easily last twice that long.

What we are seeing in Germany, then, is much more of a coal lock-in than a solar revolution.
He also points out several details demonstrating why renewables are best done with natural gas as a backup (e,g., Texas shale combined with wind). Germany's solar panels peaked out last year on July 21 in terms of energy output, meeting 20.9% of daily electricity demand, which is impressive, but on January 18 they only managed to satisfy just over 0.1% of that demand. We know which stat got the headline, of course.
Wilson's conclusion sends the fractivist claims about the German renewables diversion where the sun doesn't shine:
The new German government has put in place a long-term target of having between 2.5 and 3.5 gigawatts of solar panels installed each year. If we take the higher figure, and assume that 3.5 gigawatts is installed each year, it will take Germany almost ninety years to reach 50% solar electricity. This however is an underestimate. Solar panels must be replaced every twenty or twenty fives years, and 50% solar energy in Germany would require massive advances in energy storage techniques. Germany, then, is around a century away from getting half of its electricity from solar panels.
The Reality of German Renewables
Another article at Watts Up With That offers additional perspectives on the German situation:
Since the introduction of the "Renewable Energy" law (EEG) in 2000 aimed at replacing coal and gas-fired as well as nuclear power generation by so-called renewable energy sources, the household price for electricity has jumped by more than 200%. German customers now pay the second-highest electricity prices in Europe. At the same time, the task of stabilizing the grid against the massive erratic influx from solar and wind power plants that produce without regard for actual need has pushed the operators to their limits. Now already, with a combined share of just some 13% of total electricity production, their unreliable input is massively imperiling the stability of the grid.
The financial burden of the huge subsidies required to do all this isn't limited to the burden on the energy consumer, either. It is shared by all German taxpayers and the government realizes it must scale them back as it cannot continue. Still another article at NoTricksZone reveals a speech by Germany's Economics Minister and Vice Chancellor to Angela Merkel, Sigmar Gabriel, who announced the Energiewende was "on the verge of failure," unable to sustain itself at the subsidy levels required. Here are the key quotes, made to solar energy leaders in Germany:
The truth is that in all fields we under-estimated the complexity of the Energiewende…

Those who are the engines of the transformation to renewable energies, that's you, you don't see how close we are to the failure of the energy transformation.
Gabriel was telling the German renewables industry the gig is largely up as far as any expansion of the country's solar initiative at taxpayer expense. They've reached the limit. They're turning to coal to put things back in order financially, as this story tells and it isn't pretty. They're mining lignite, the dirtiest of all coals, using gigantic strip-ming machines like this one, depicted being move from one site to another:
They're also moving entire towns to create the mines as this picture shows: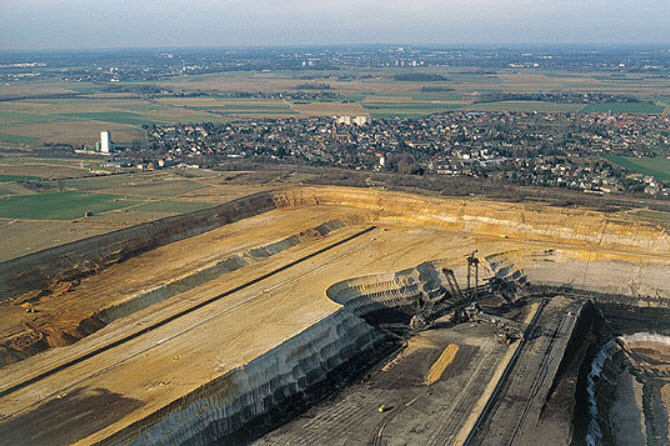 Lignite coal mining is the sort of industrialization fractivists like to say happens with natural gas development as they sing the praises of the progressive Deutschland and the German renewables program, about which they know nothing other than what some other fractivist told them. As for me, well, I'll take Pennsylvania any day because this is what natural gas development looks like here.
The German renewables program meets reality and reality wins. Who'd have thought it?