Tom Shepstone
Shepstone Management Company, Inc.
LNG is the key to strengthening America's competitive advantages in a global economy and delivering both economic security and price stability.
I had the opportunity earlier this week to do an interview with Dr. Margo Thorning, a senior vice president and chief economist with the American Council for Capital Formation (ACCF). This organization promotes "strong capital formation, a balanced regulatory regime, and cost effective environmental policies" with goal of helping "assure that the United States continues its role as the world's pre-eminent power in an increasingly global economy." Thorning was not only a delight to interview, but also full of information. She also offered some much needed global perspective on the American shale revolution and what it means for all of us in a world where liberty and opportunity depend upon our economic leadership.
LNG Means Marketable Competitive Advantages for the US
The ACCF has been providing leadership in leveraging America's competitive advantages due to the shale revolution by promoting the export of liquified natural gas (LNG). It put out a video in May of this year, narrated by Honorable Harold Ford, Jr. (D-TN) that nicely captures the basics:
Thorning also authored a post on her ACCF blog that introduces the video by summarizing some of the key facts, facts such as these:
Annual production of natural gas and oil from shale has grown by more than 50 percent since 2007, helping the United States to assert itself as a global energy superpower. The U.S. is now the world's leading producer of natural gas, and the domestic and geopolitical implications of this feat are tremendous.

The U.S. is now producing more natural gas than any other nation – recently overtaking the former global leader, Russia.

In 2014, conservative estimates from the Energy Information Administration (EIA) project that the U.S. will produce approximately 24 trillion cubic feet of natural gas and that Russia is on a downward slope at closer to 21 trillion cubic feet of natural gas…
The following chart from the EIA tells the story graphically: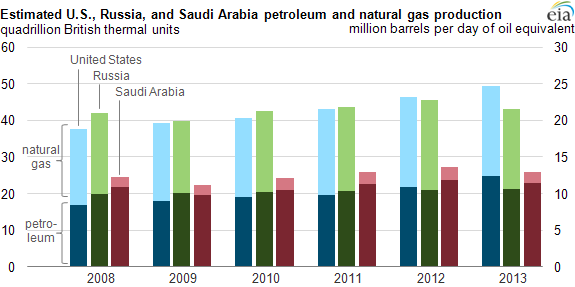 Thorning's post continues with more insights into what the shale revolution has wrought:
According to the EIA, in 2012 the U.S. consumed approximately 25 trillion cubic feet of natural gas while our proven reserves are estimated at at 334 trillion cubic feet…

This shale gas revolution is revitalizing the heart of small town America, already supporting 1.7 million jobs, according to a study by IHS Global Insight. Those numbers grow to 3.5 million in the next twenty years…

According to [a] study commissioned by the Department of Energy and conducted by NERA Consulting, the U.S. would experience net economic benefits from increased LNG exports. In fact, the report notes, "for every one of the market scenarios examined, net economic benefits increased as the level of LNG exports increased."
The referenced study, a summary of which may be accessed here documents what the shale revolution and LNG exports mean for America:
According to the latest Annual Energy Outlook 2013 (AEO 2013), the Energy Information Administration (EIA) projects the U.S. natural gas production will increase by about 40% by 2040 from its current level of 27.4 trillion cubic feet (tcf), mainly because of expected increases in shale gas production over the next two decades. Shale gas is projected to account for more than 50% of total U.S. natural gas production by 2040…
Our analyses show that there will always be a difference of $6 to $8 between the Asian prices and the U.S. prices, since that represents the cost of inland transportation, liquefying, shipping, and regasifying natural gas to get it from the U.S. to Japan or Korea. Even with no binding export limits, the U.S. natural gas price will still be below the import price in the Asian markets since Asian buyers have no incentive to buy natural gas in the U.S. if it is not cheaper than their prevailing domestic price by that amount.
The Thorning Interview
I queried Thorning about all this in our interview. She said legislation intended to streamline the approval of LNG export facilities (there are numerous applications pending)  has been approved in the US House of Representatives (H.R. 6), but is still awaiting action in the Senate (S.2083). The legislation is critical due to the fact there are 64 LNG projects being funded by contractors and other governments outside the US, projects that will wrest away the marketable competitive advantage the US has within its grasp as a consequence of shale, if the US doesn't act quickly.
Two projects, one in Louisiana and another in Florida have recently been approved, and seven more have been preliminarily approved subject to permitting by the Federal Energy Regulatory Commission (FERC), but it takes time to build the facilities after permitting and Australian and African projects now moving ahead threaten to get the jump on the US if applications here are not processed much more expeditiously.
Europe needs LNG from us or someone else over the next 1-3 years to prosper economically and already has the import facilities, Thorning indicated, so it's a matter of the US getting its act together to take advantage of the opportunity before others do so and gain what should be our advantage. Part of that is also improving our pipeline infrastructure, she noted, which includes the Keystone Pipeline and others intended to move our shale bounty to market.
Those markets aren't limited to LNG export, either. Thorning discussed how the same pipeline facilities intended to deliver LNG for export can also serve to deliver natural gas to parts of the US desperately needing it not only for wintertime heat, but also to reinvigorate their own manufacturing sectors (e.g., Maine, Massachusetts, Vermont).
My interview with Thorning reinforced just how important natural gas and exports are to maintaining our ability as a nation to compete in a world economy. We cannot grow jobs and wealth without manufacturing and the ability to capitalize on our natural resources. The shale revolution has given us a gigantic step up and LNG exports offer an opportunity to take the next step and lock in US competitive advantages for decades to come. Moreover, the importance of these exports to reinforcing our relationship with European nations, who have the choice of working with us or with Russia, is also critical to our national security and the freedom of countries neighboring that marauding bear.
Check out what else is new at NaturalGasNow today!
While you're at it, follow us on Facebook, Twitter and Linked-In!