Maria Turconi
External Affairs Intern
Cabot Oil & Gas Corporation 

 ….
…
Dimock Township has always been pro-gas, a point proven long ago when that first Cabot Oil Oil & Gas picnic attracted 3,000 or so attendees, but now the community gets to enjoy the benefits of the resource as a consumer, as well as a producer.
Northeast Pennsylvania is home to many natural gas wells and now it has the potential to be home to many natural gas consumers. Several counties in this region are at the center of natural gas production, but many of their residents do not directly reap the benefits of the gas lying beneath their feet. That is starting to change, though, as more and more energy distribution companies are looking to expand their natural gas distribution to this area.
The Pennsylvania Public Utility Commission (PUC) has approved an application by the Leatherstocking Gas Co. and UGI Penn Natural Gas to service Dimock Township in Susquehanna County and Canaan Township in Wayne County. Leatherstocking Gas Co. will service the Elk Lake School District, which is already benefitting in a major way from natural gas development, and residential customers in Dimock. UGI Penn Natural Gas will now be able to service the State Correctional Institution at Waymart in Wayne County.
Once the pipelines are in place in these counties and distributing to these larger buildings, it is hoped residential customers can then tap into the lines already installed in their county. There are two types of lines directly involved with gas distribution to communities, distribution pipelines and service pipelines.
A distribution line connects to transmission lines [high pressure lines that carry gas over long distances] and service lines. Also called "mains," a distribution line operates with an intermediate pressure and range from 2 to 24 inches in diameter. Transmission pipelines are regulated by the FERC, or the Federal Energy Regulation Commission, while distribution lines are regulated by state utility commissions.
A service pipeline is most commonly less than 2 inches in diameter and connects to a meter that transports gas to individual customers. Service lines are made out of plastic, steel or copper.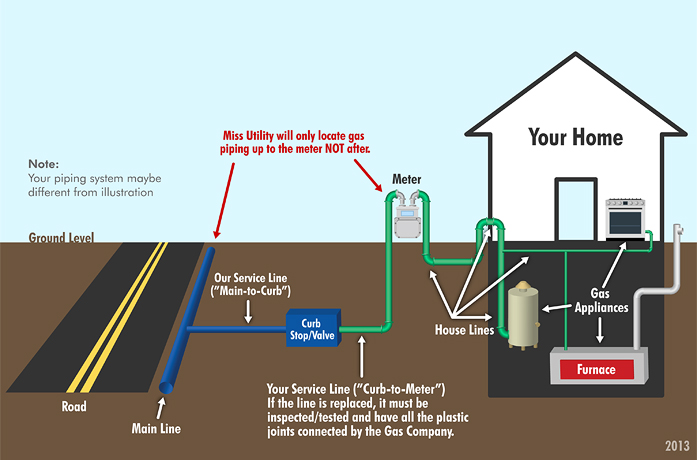 By making natural gas service more readily available these providers are offering a low-cost local energy alternative. Moreover, there are many appliances that run more efficiently on natural gas compared to electricity, offering additional savings to consumers. A simple example of natural gas efficiency is laundry. According to the American Gas Association, natural gas dryers can dry two loads for the same cost as one load run on electricity. This gas can also be used for home heating in place of wood, propane, or heating fuel burning methods.
Back in October of 2012, WNEP did a story about the possibility of natural gas service to counties such as Susquehanna and Wayne. Now, it's happening. What was just a possibility less than two years ago is beginning to become a reality for these Pennsylvania consumers; Dimock Township consumers no less. What a fitting way to demonstrate sustainability. What a fitting way to demonstrate the real Dimock, the one we don't hear nearly enough about.
Editor's Note: This article originally posted at Well Said Cabot. Check it out!