Victor Furman
Upstate New York Landowner
Shale Gas Activist at NYRAD-R  
New York State seems to be full of shale gas skeptics. Among them are its Governor, who once thought children could fall down into shale gas wells, so Vic Furman has devised an informative test to educate him and others.
Those of us living here in New York have been arguing the matter of energy for six years and there seem to be a lot of shale gas skeptics, including Andrew Cuomo, our erstwhile Governor. So, I have devised a test to see what we really know or just don't want to admit.
This test is meant to open the minds of those who are on the fence and test the minds of both sides. I have put a lot of thought into it but, of course, it's not perfect. Therefore, if you feel the correct choice has not been offered, feel free to comment and offer your own answer or suggest other questions. This is intended to be an evolving test for shale gas skeptics that we can use down the road.
Shale Gas Skeptics Test – Part I Questions
(Multiple choice – choose one by filling in the circle)
1. How long does it typically take to drill a shale gas well in the northeastern part of the United States once permitted?
O Six months
O Three months
O One month
O 18-25 days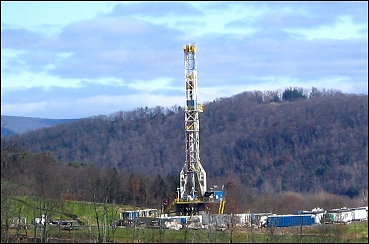 2. How many gas wells can be drilled horizontally from one well pad?
O One well
O Two wells
O Six wells
O 10 or more wells
3. How many states now allow high volume horizontal hydraulic fracturing of shale?
O 11
O 17
O 25
O 32+
4. How many states with significant shale gas deny landowners the right to their minerals with a 6 year de facto moratorium in place?
O 20
O 15
O 10
O One
5. What is the only State in the union with major shale gas resources that is denying landowners access to their minerals?
O Texas
O California
O Pennsylvania
O New York
6. What state has suffered chemical pollution of their groundwater aquifers as a result of high volume hydraulic fracturing?  
O Texas
O Ohio
O Vermont
O None
7. What state is the fifth largest user of natural gas in the country?
O Pennsylvania
O Michigan
O Ohio
O New York
8. How much natural gas does the US now export to other countries compared to Russia? 
O 150% more than Russia
O 75% more than Russia
O 25% more than Russia
O Less then 25% of what Russia exports
9. How long has the "Halliburton loophole" exempting hydraulic fracturing from the US Clean Water Act been in effect?
O Since 2005 under Vice-President Dick Cheney
O Since the first hydraulic fracturing in the 1940s
O Since Josh Fox said so
O There is no Halliburton loophole
10. Who is more apt to be a consumer of natural gas and it's products?
O The one percent (e.g., Yoko Ono)
O Poor people and minorities
O People living in cities, villages and towns
O All of the above
Shale Gas Skeptics Test – Part I Answers
1.   18-25 days
2.   10 or more wells
3.   32+ (regulations are ever changing and California and Illinois just enacted theirs)
4.   Only one – New York State. Some other states such as Maryland also have small amounts of shale gas and are developing regulations but only New York has major resources and has brought preparations of regulations to a halt.
5.   New York State (see No. 4 above)
6.   None. No ground water aquifer has ever been polluted with chemicals used from the fracking process anywhere in the United States.
7.   New York – None of the others, all natural gas producers, are among the top five.
8.   Less then 25% of what Russia exports. The US exports 4.4 Bcf per day while Russia exports 20 Bcf per day.
9.   There is no Halliburton loophole.  Even Tony Ingraffea agrees on that.
10. All of the above. Yoko Ono heats her Dakota apartment with natural gas. African-Americans use more gas and so do urban residents.
Shale Gas Skeptics Test – Part II Tomorrow!