Fractivists speculate shale gas development lowers home values, but the evidence keeps coming showing the opposite. Relying only on tourism is the problem.
A regular reader of NaturalGasNOW.org, an individual who is keen on monitoring economic trends, passed along an interesting chart to me yesterday morning. It's from an extremely informative website called City-Data.com (check it out) and depicts a disturbing trend in our own area of Wayne County, Pennsylvania, which is one of three well-known Pocono counties where tourism has long been an economic mainstay. Home values are in free fall.
Home Values in the Poconos
The chart, offered below, indicates the median home price in Wayne County, based on the information analyzed by City-Data.com, has dropped like a rock in recent years,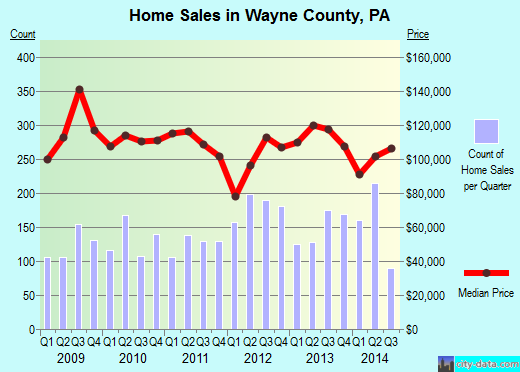 The other two Pocono counties bordering Wayne are Pike and Monroe Counties. The trends there follow a similar pattern, which may be described as relentlessly downward. It's not a pretty sight and demonstrates how putting all your bets on tourism is never a good strategy for building community wealth.
A diversified economy is essential to sustaining employment opportunities which, in turn, help maintain home values. Pocono area home values, by contrast, are less related to employment demands than the value of the housing for recreational and retirement purposes. The latter is a fickle thing and we see that reflected in the sales data.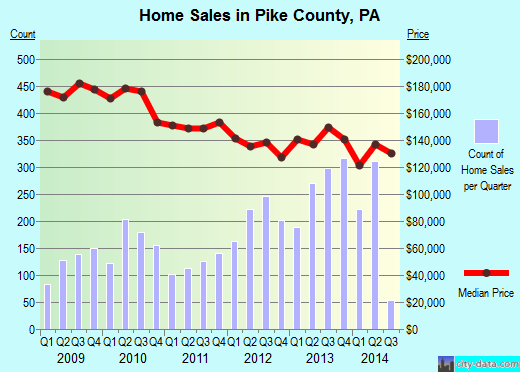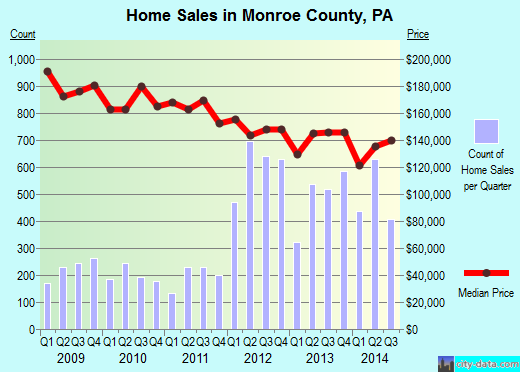 Home Values in the Shale Gas Region
The value of a diversified economy can be illustrated by looking at the three most prominent counties among Marcellus Shale gas producers in Northeastern Pennsylvania: Bradford, Susquehanna and Lycoming Counties. Charts for each may be found below. City-Data.com had significant sales for Bradford County from the first quarter of 2010 on and it indicates and overall stable to upward trend, indicating home values have certainly not been negatively impacted by shale gas development. The trend, in fact, has been generally, up although there was a decline in the first quarter of 2014.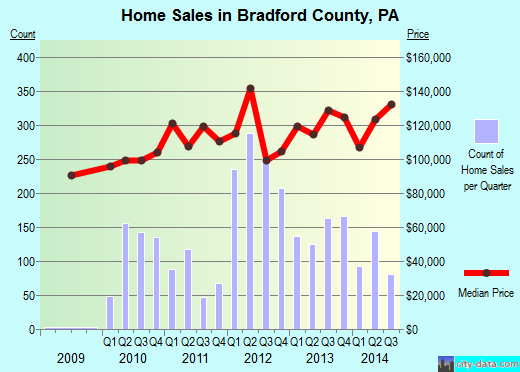 Susquehanna County's home values, beginning with the third quarter of 2011 when there was first enough data to make a meaningful analysis, also show a generally upward trend.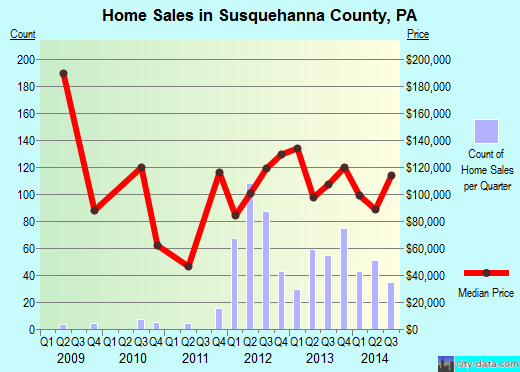 Lycoming County, too, has shown an increase in home values since the fourth quarter of 2012 when sufficient data first existed to draw conclusions.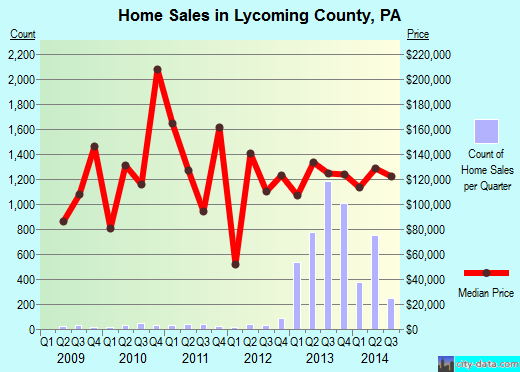 Taken as a whole this home values data, although incomplete and representing only the results of such sales as City-Data.com was able to monitor, clearly shows the residential real estate markets have been sustained by shale gas development economic activity, although fractivist speculation always suggests otherwise. Meanwhile, the second home economies on which they all argue we should really depend, have left homeowners under water with mortgages and unable to sell homes except at fire sale prices.
Another fractivist myth destroyed by the facts!
Hat tip: R. Barrett
Update: One of our frequent commenters on this site, Cliff Goudey, a marine fisheries/wave energy guy and LNG opponent from Maine, says "One could also argue that with the threat of fracking hanging over all of PA, who would want to buy a vacation property." That's typical of the fractivist speculation I referred to above – all hype and no substance. It reminds of something I should have noted about the three Pocono counties. There is no fracking in those counties due to the DRBC sitting on regulations and there hash't been any since at least the 1950's, which means home values have plummeted all by themselves, in contrast to shale gas counties where much fracking is being done and home values have been sustained. Moreover, Pike and Monroe Counties are not believed to have any significant Marcellus Shale gas.