Brittany Thomas
Coordinator, External Affairs
Cabot Oil & Gas


Everywhere you look, Marcellus Shale development has lowered energy prices for consumers while economically revitalizing rural areas where it's developed.  
Last week, a small group of local citizens, business owners, nonprofit directors and the media gathered in the community center at the Meadows at Tiffany Pines (the housing gas built) just outside of Montrose, Pennsylvnia. The purpose was to discuss the tremendous benefits the local production of natural gas, Marcellus Shale gas, is having both within the county and beyond; the greatest benefit, perhaps, being the lowered energy prices for consumers.
You might say this was the focus of the get-together: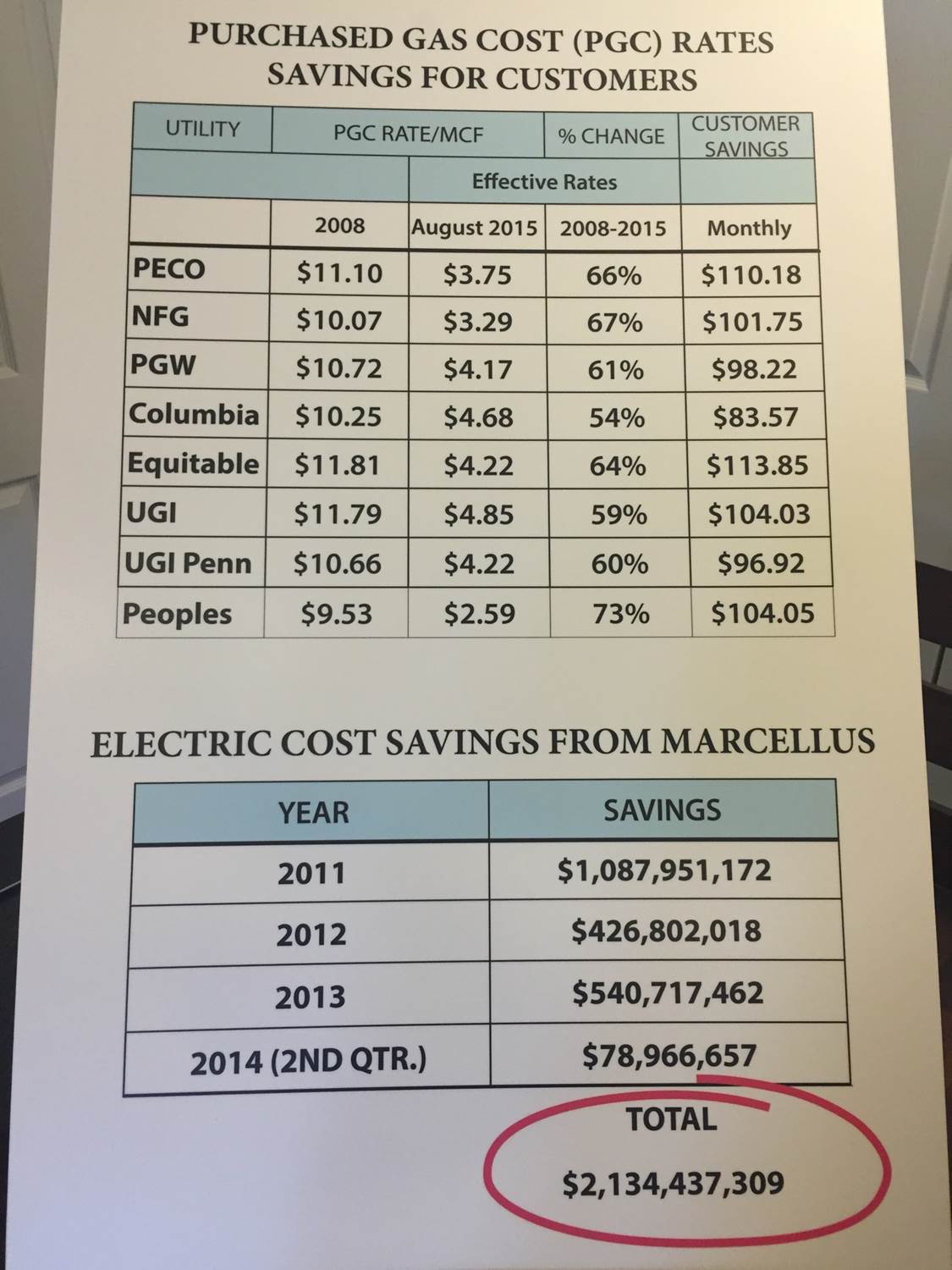 There were numerous speakers at the event, among them being the following:
Pamela Witmer – Pennsylvania Public Utility Commissioner
Cindy Beeman – Director of Susquehanna County Interfaith
John Cherundolo – First resident in Susquehanna County to receive natural gas in his home
Mike German – President & CEO of Corning Gas
Dennis Phelps – Director of TREHAB
Russell Miller – Vice President, Gas Supply & Marketing for Leatherstocking Gas Company
George Stark – Director, External Affairs for Cabot Oil & Gas Corporation
For those not familiar, natural gas service in Susquehanna County is a new opportunity for both businesses and residents in this area of Pennsylvania where so much of the Marcellus Shale gas is produced. Not only is the abundant production lowering natural gas, propane and home heating fuel bills, it is also lowering energy bills across the country. Here are some of the major talking points discussed during the presentation:
Residents living in the Tiffany Pines units are saving 30-35% on their heating bills due to the use of natural gas – Dennis Phelps
John Cherundolo, the first residential customer in Susquehanna County saw a return on his investment of switching from propane in 15 months
Susquehanna County Interfaith's recent move to a new location was partial made possible due to the affordability of heating the building by natural gas. They are able to pass these savings in energy bills along to their customers through various programs.
The lower cost of propane and home heating fuel thanks to Marcellus Shale production also allows for the agency to purchase more fuel for families in need through their Heat Share program.
The shale gas revolution in PA has resulted in ripple effects across the Commonwealth. The savings since 2008 for natural gas customers averages $100 per month – Commissioner Pamela Witmer
Leatherstocking Gas Company was the first new company approved by the Pennsylvania Utility Commission in 40 years
Thanks to the natural gas production in places like the Marcellus, the estimated savings seen across the country are $1,800 per year
And, as Russ Miller from Leatherstocking explained, the plan is to continue investing in natural gas infrastructure and converting homes and businesses while attracting new businesses to the area. He also reminded the audience of the desire to grow infrastructure just over the border into New York state.
There was also extensive media coverage of the event. Here is some of it, from both sides of the state border:
Reposted from Well Said Cabot.
Editors Note: For those of you reading this from the New York State side of the border, the only reason this good news isn't happening there, in places such as Sidney in Delaware County, is this; your incompetent and corrupt governor refuses to allow Marcellus Shale development and continues to sit upon a simple New York State Department of Environmental Conservation administrative decision with respect to the Constitution Pipeline that would deliver Marcellus Shale gas and lower energy prices to your state and would have been made long ago in any other state. He does so because he is beholden to a New York ruling class of elites in Manhattan and Ithaca who don't give a damn about your energy prices or your economy and only seek moral self-excupulation for themselves as they attempt to make a wilderness of Upstate New York.